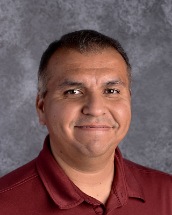 Mr. Brandon Coz is the Director of Performing Arts here at Yuma Catholic High School. He joined the Shamrock family in 2012, and we are grateful to him for sharing his talents with the YC Shamrocks!
Today, Mr. Coz enjoys teaching each branch- Band, Choir, Drumline, Guitar and Drama. He also leads music for weekly Mass and daily prayer throughout the year. His love for teaching and nurturing his students is evident daily in his classroom.
Mr. Coz is a Yuma native and attended Arizona Western College and Northern Arizona University where he received a Bachelor of Music Education in May 2003. He is also a professional musician and plays music in the Yuma community and regionally in California and New Mexico. Mr. Coz plays drums for the Yuma Jazz Company, the Yuma Big Band and has played over the years with other well known musicians such as Jason and Eloisa Arviso, Jennifer Wayman-Hart, Pete Pancrazi, Gilbert Castellanos, Walter Beasley, and The Diamonds. Mr. Coz is an active member of the Yuma County Music Educators Association (YCMEA), Arizona Music Educator Association (AMEA) and the National Association for Music Education (NAfME).