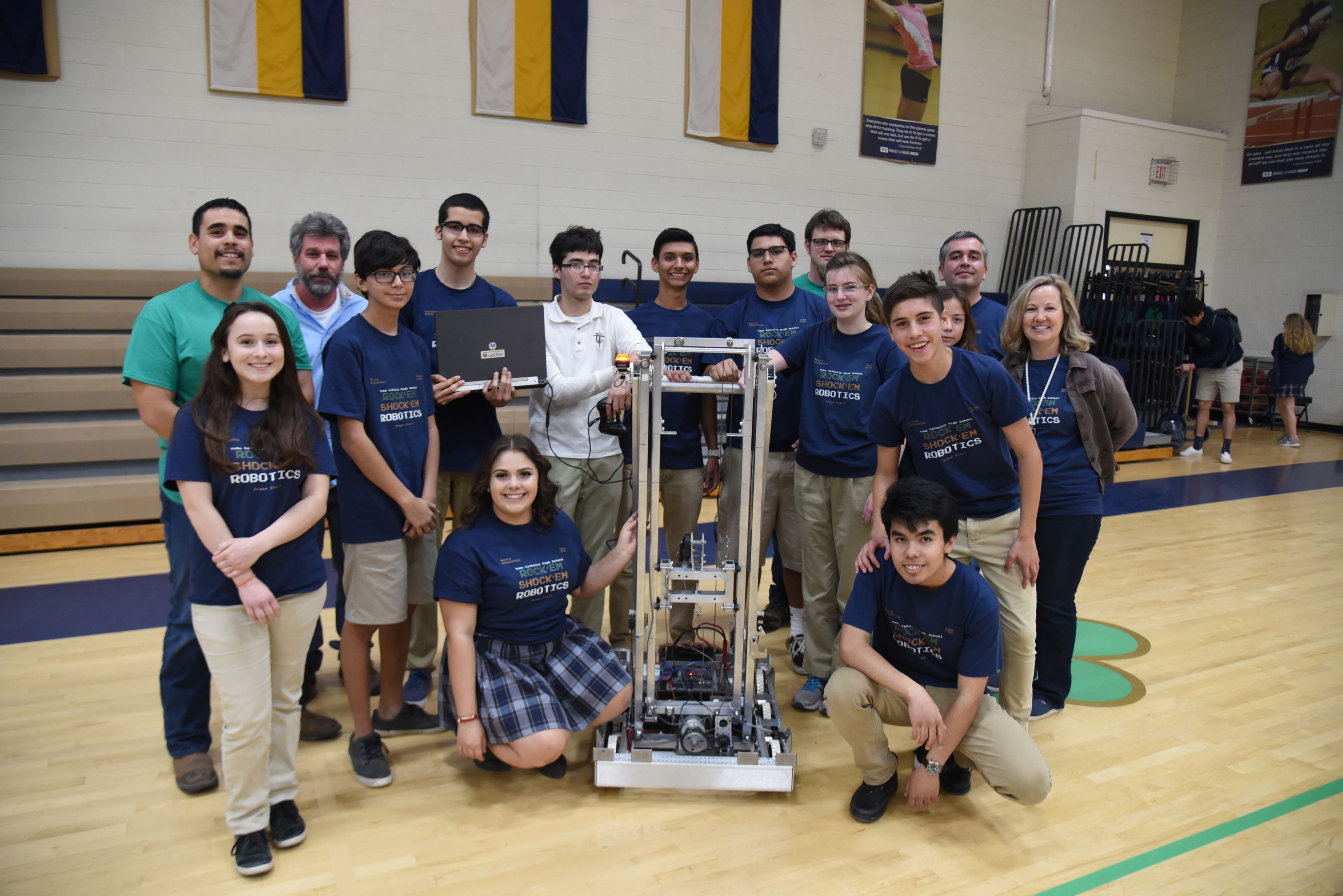 It has been a month since the Robotics Club competed at the FIRST Robotics competition in Flagstaff, Arizona. It was academically engaging, substantially social, and it captivated all of us. Around sixty teams, new and old, from around the area as well as a few international teams attended this competition. It was tough, but we performed to the best of our abilities.
Some of the various facets we learned about FRC Robotics:
It is more than just robots; it is about communicating and cheering for other teams. Meeting other teams and working with them is essential, in and outside the playing field. We all work together to improve our robots and learn new strategies.
Using social media to get the team's name out there as much as possible. A very important job we did not know existed was "media person(s)." A member(s) of a team that goes as far as creating apps, live broadcasting, and designing ecommerce merchandise for their team.
When we first arrived to the Skydome, where competition was being held, the first thing we did was back away from the pit. The drive team was always occupied with the robot, and even though our pit was not as furnished as others, it was too compact for seven people to move around easily. Most members were in stands cheering and taking notes. I, as president, and the safety captain had daily and hourly meetings with other teams' presidents and safety captains. Judges also came by occasionally to interview members. Scouts also conducted interviews every now and then to take note of other robots' abilities and weaknesses. Each day was not much different than the other except for the last day's elimination round and award ceremony.
It has been a full month since competition and exciting plans for next year are being arranged. Next year, the Robotics Club plans to attend not one, but two competitions; one in-state and one that is yet to be announced. Currently, we are in the process of cleaning out our workshop and selecting next year's leader positions. Next week, we will announce a public invitation to join the club and meet their future robotics leaders.
"Although we aren't a team with abundant experience, we will surely try our best and have fun while at it" - Marlon Olivas, future Robotics Club President
Robotics Club 2018
Eduardo Felix, Ignacio Gutierrez-Flores, Randy Gonzalez, Mili Preciado, Alexia Marin, Marlon Olivas, Mario Rodríguez, Lia Grijalva, Jose Mojardin, Abril Molina, Luis Robles, Austin Doten, Madeleine Peach, Luis (Kirby) Flores, Christian Zaragoza, Joshua Haney, and Nini Preciado.