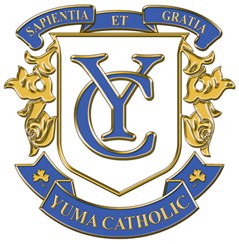 The Pasquinelli Foundation and Peter's Foundation Announce Scholarships!
Yuma Catholic High School, in partnership with the Pasquinelli Foundation and Peter's Foundation, announce that six scholarships have been awarded to incoming freshmen for Yuma Catholic High School's 21-22 school year.
The Pasquinelli Foundation President, Gary Pasquinelli is a firm believer in Catholic Education. "From my own lived experience, and the experience of my 3 daughters, all of us having been educated K-College degree in Catholic institutions; and the experience of the YC graduates from the inception of YC to date, it is axiomatic to me that a Catholic High School education, in alliance with good parenting in the home are a tried and true formula for success physically, spiritually, and academically, preparing young men and women for God-fearing, successful, and meaningful lives. The Pasquinelli Foundation is humbled and grateful to be able to assist our YC scholarship recipients in their journeys toward fulfilling their lives' dreams."
Adrienne McLaughlin, Peter's Foundation Chair, said, "It warms my heart to be able to offer scholarships to deserving students who want to receive an excellent Catholic education."
Each of the six scholarships will be $5,000 per year towards tuition for each of four years to attend Yuma Catholic High School. The students selected were: Ariana Olea from Crane Middle School, Chandler Moreno from Ron Watson Middle School, Dailyn Breschini from Southwest Junior High, Amanda Wiley from Immaculate Conception, Gianna Imai from Immaculate Conception and Lillian Valencia from Yuma Lutheran School.
These six students will be joining 13 other students on the program. They are all highly achieving in their classwork and campus activities. We would also like to congratulate the Class of 2021 Pasquinelli Foundation/Peter's Foundation scholars that graduated this year: Jose Godina, Zachary Grober, Ignacio Gutierrez Flores, Makena Verdugo and Brannon Weatherby. We wish them all the best as they move forward.
Rhett Stallworth, principal, shared, "The Pasquinelli Foundation and Peter's Foundation continually demonstrate their faith in Yuma Catholic High School and our students. These scholarships enable us to serve the entire community and provide tools to help families choose YC." Over 84% of our student body receives some form of financial aid through private donors, individual tax credit support and corporate tax credit support. With the current economy, this support is needed now more than ever.
Yuma Catholic High School has small class sizes, a 100% college acceptance rate, a strong scholar athlete program, Catholic Christian religious education, and dual enrollment classes on our campus that earn college credit. The faculty and staff at Yuma Catholic High School maintain a learning environment that fosters the development of morally responsible leaders who volunteer to serve many local organizations. Those who are interested in becoming part of the Yuma Catholic community or want to learn more about our campus and curriculum are welcome to call 317-7902 to schedule a tour. ###