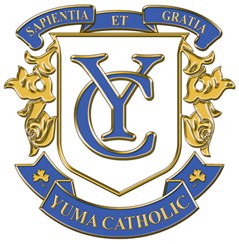 Yuma Catholic High School
For Immediate Release
April 14, 2021
Bobbi Ukura, Advancement Director
928-317-7924
The Pasquinelli Foundation – Peter's Foundation
Announces Scholarships for 21-22
Yuma Catholic High School, in partnership with the Pasquinelli Foundation and Peter's Foundation, announces that six (6) scholarships are available for incoming freshmen enrolling for the 2021-2022 school year. Based on the remarkable success of the 18 students currently receiving support, the Pasquinelli Foundation felt strongly that the opportunity should be offered again to incoming freshmen. Scholarships will be made available to students from the following schools: Immaculate Conception, St. Francis, Southwestern Christian, Yuma Lutheran and Yuma's Public Schools and Yuma Charter Schools.
Gary Pasquinelli, Pasquinelli Foundation Chair, believes investing in Catholic education creates strong families, dedicated students and builds a lifelong foundation for service. Gary has made the following statement about offering more scholarships for the upcoming school year, "I am convinced, and the experience of our graduates has proven that a Yuma Catholic High School education will put a young man or woman on a direct path to high achievement in college and in life." The Pasquinelli Foundation is helping sow the seeds for a future full of promise for these young people.
Adrienne McLaughlin, Peter's Foundation Chair, said, "It warms my heart to be able to offer scholarships to deserving students who want to receive an excellent Catholic education."
Each of the six scholarships will fund $5,000 per year towards tuition for each of four years to attend Yuma Catholic High School. The support will be made available to those select students for all four years of their secondary education as long as they meet both the scholarship's 3.25 minimum grade-point average and good conduct requirement. Information for the scholarships and applications can be found on the Yuma Catholic High School website: https://www.yumacatholic.org/admissions/scholarships.cfm or by calling Josie Smith, Finance Director, at 928-317-7914. The deadline to apply is Friday, May 14, 2021 at 4:00pm
"We are extremely grateful to the entire Pasquinelli family for their continued support and genuine interest in the success of the students of Yuma Catholic High School," shared Bobbi Ukura, advancement director. Five of the Pasquinelli Scholars are graduating this year. We are excited to see what great things are accomplished by Jose Godina, Zachary Grober, Ignacio Gutierrez Flores, Makena Verdugo and Brannon Weatherby as they move forward in life. Your extended Shamrock family loves and is proud of you!
Rhett Stallworth, principal, shared, "Deacon Gary Pasquinelli and the Pasquinelli family continually demonstrate their faith in Yuma Catholic High School and our students. These scholarships enable us to serve the entire community and provide tools to help families choose YC. Exciting things are happening at Yuma Catholic with programs like FFA. We are looking forward to a great year ahead thanks to supporters like the Pasquinelli Foundation and Peter's Foundation."
Yuma Catholic High School has small class sizes, a 100% college acceptance rate, a strong scholar athlete program, religious education, dual enrollment classes on YC's campus with transferable college credits from Arizona Western College. The faculty and staff at Yuma Catholic maintain a learning environment that fosters the development of morally responsible leaders who volunteer to serve many local organizations. Those who are interested in becoming part of the Yuma Catholic community or want to learn more about our campus and curriculum are welcome to call 317-7902 to schedule a tour or visit our new website at www.yumacatholic.org ###