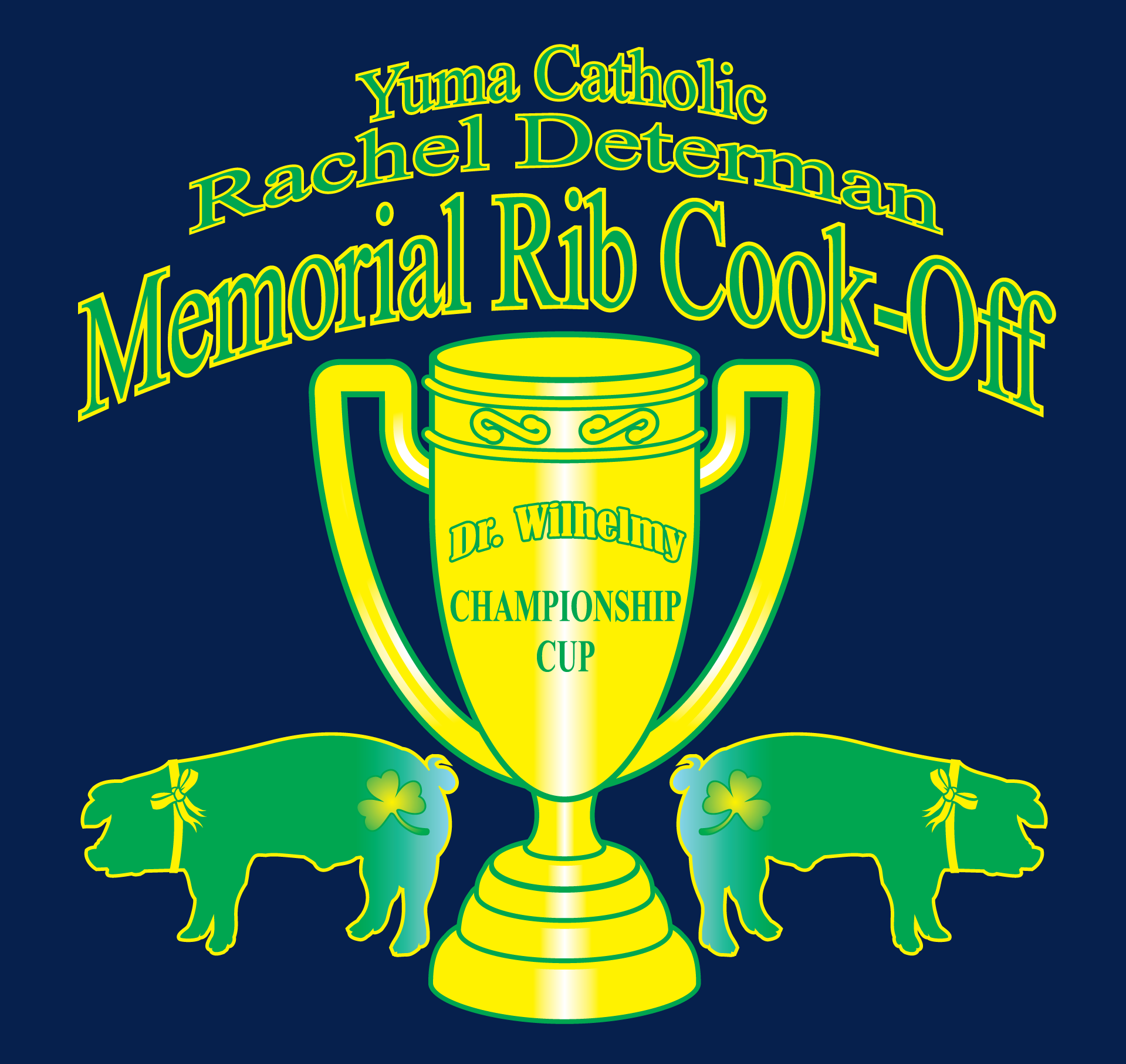 the 14th Annual rachel Determan memorial rib cook off
Yuma Catholic High School hosted the 14th Annual Rachel Determan Memorial Rib Cook-off on Saturday, December 3, 2016 on the beautiful YC campus. Despite the windy conditions, the event was full of fun, family and fellowship!
There were 29 different teams from our community cooking up ribs and their specialty sides for the crowd of rib lovers. That was a large number of teams competing for the coveted Dr. Wilhelmy Championship Cup. The judging panel of six community rib lovers: Madison Kimbro from KECY, Patrick Malarchik an award winning chef, Rich Walton Director of Golf Instruction at Desert Hills Golf Course, Steve Campuzano from El Dorado Broadcasting, Sheranne Dampier from the Arizona Western College Culinary Program and Shelley Mellon from R. L. Jones Insurance blind taste tested 28 different ribs and side dishes in a 90 minute session. That was a lot of Ribs!
The Dr. Wilhelmy Cup winner in the Rib Category was Ed Whitehead's Tire Pros with 2nd place going to Na Koa Fitness and 3rd place going to BBQ's Dunn sponsored by Sport Clips.
First place in the Side Dish category went to Fatty Shack BBQ sponsored by Smitty's Body Shop for their Chile Bean, 2nd place went to Team Memphis from Memphis BBQ for their Pork Nachos and 3rd place went to the Smokin' Grillin' Friends featuring the Boyd family's blue cheese stuffed bacon wrapped dates.
The People's Choice winner this year was Coaches Choice sponsored by Sun River Investment Properties.
The goal of this event is to bring our whole community together in fellowship to share our wonderful campus, YC students and enjoy some awesome barbecue together. We exceeded our goals as it was a fantastic day! We were grateful for the large number of participants on so many levels: teams, sponsors, volunteers, donors and guests!
This event was made possible by over 50 sponsors and in-kind donors! Thank you to Alexander Automotive Group, the Determan Family and Yuma Vision Center for their leadership as title sponsors for this event. Events like these help Yuma Catholic High School set tuition below the actual cost, which allows more families to choose YC! Seventy percent of the student body receives tuition assistance to make their dream of a Catholic education a reality.
Yuma Catholic High School has small class sizes, a 100% college acceptance rate, a strong scholar athlete program, religious education and dual enrollment classes that count towards college credit from Arizona Western College. The faculty and staff at Yuma Catholic maintain a learning environment that fosters the development of morally responsible leaders who volunteer to serve many local organizations. Those who are interested in becoming part of the Yuma Catholic community or want to learn more about our campus and curriculum are welcome to call 317-7902 to schedule a tour.
###