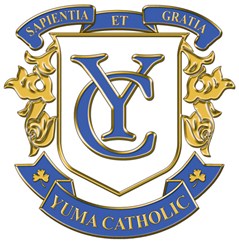 Yuma Catholic High School
For Immediate Release
Bobbi Ukura, Advancement Director
928-317-7910
May 8, 2017
The Pasquinelli Foundation Offers More Scholarships for 17-18!
Yuma Catholic High School, in partnership with the Pasquinelli Foundation, announces that six scholarships are available for incoming freshmen enrolling for the 2017-2018 school year. Based on the on-going success of the 17 students currently receiving support, the Pasquinelli Foundation felt strongly that the opportunity should be offered again to incoming freshmen. Scholarships will be made available to students from the following schools: Immaculate Conception, St. Francis, Southwestern Christian, Yuma Lutheran and Yuma's public/charter schools.
Gary Pasquinelli, Foundation Chair, believes investing in Catholic education creates strong families, dedicated students and builds a lifelong foundation for service. Gary has made the following statement about offering more scholarships for the upcoming school year, "I firmly believe, and the experience of our graduates has shown that a Yuma Catholic High School education will put a young man or woman on a direct path to success in college and in life." The Pasquinelli Foundation is sowing the seeds for a great future for these young people.
Each of the six scholarships will be $5,000 per year towards tuition for each of four years to attend Yuma Catholic High School. The support will be made available to the selected students for all four years of their secondary education as long as they meet the scholarship's yearly grade point average requirement. There are scholarships available for the upcoming school year based on financial need and also academic merit. Information for the scholarships and applications can be found on the Yuma Catholic High School website at http://www.yumacatholic.org/admissions/scholarships.cfm or by calling Josie Smith, Finance Director, at 928-317-7906. The deadline to apply is June 2, 2017
"As more families are seeking Catholic education's sacred craft of building character and learning engagement, the demand for tuition assistance grows. We are grateful for the partnership with the Pasquinelli Foundation to serve more families and demonstrate a shared commitment to service," shared Bobbi Ukura, advancement director. This new round of scholarship opportunities, along with the three previous academic years, brings the annual investment in Yuma's youth to $115,000! This is a major commitment by the Pasquinelli family.
Rhett Stallworth, principal, shared, "Deacon Gary Pasquinelli and the Pasquinelli Foundation continually demonstrate their faith in Yuma Catholic High School and our students. These scholarships enable us to serve the entire community and provide tools to help families choose YC. Exciting things are happening at Yuma Catholic with new programs like FFA. We are looking forward to a great year ahead thanks to supporters like the Pasquinelli Foundation."
Yuma Catholic High School has small class sizes, a 100% college acceptance rate, a strong scholar athlete program, Catholic Christian religious education, and dual enrollment classes that count towards college credit. The faculty and staff at Yuma Catholic High School maintain a learning environment that fosters the development of morally responsible leaders who volunteer to serve many local organizations. Those who are interested in becoming part of the Yuma Catholic community or want to learn more about our campus and curriculum are welcome to call 317-7902 to schedule a tour. ###